Double Anal Club 3 (X-Plor):
all dap of course!
This issue of Frank Thrings legendary series shot in 1998 is the most difficult to find. I am not sure wheter the scenes have ever released on dvd except the shortened versions of Das Beste aus Zwei Schwanze im Arsch 1 (Puaka). I got my caps from there.
The film features the best Ukrainian talent accessible in Budapest at that time, some of the very best to enter porn anyway.
Diana Aliyeva aka Diana Ruskof
all face zooms shot during dap
Bad camera angels make it difficult to verify more than half of the dap material.
Could as well be a simple dp. Insertion shots proove the act, though. Only in cg.
Agness Grimaldi (not listed on EBI) &
Jessica aka Marcela Miscela
:
Jessica aka Marcela Miscel:
Both girls get dapped for 2-3mins in cg only. Agness has some troubles performing it, but gets trough like a trouper. Nice cum-shower on her face. Swaps it later with Jessica, who got dapped for a short time just before.
Melanie Petite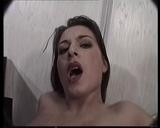 Quite a short but well catched (a rarity for Frank Thring!) dap. Intense, too. Given the Diana Ruskof dap verifying troubles, maybe the best scene of DAC3!